M=Music,Multimedia,Method S=Sound,Signal,System P=Programming,Processing,Paradigm

MSP Summer School
---

General Information
Recently, musical production has shifted towards more utilization of MIDI equipment and hard disk recording. Thanks to the enormous development of the PowerPC processor, it is now possible for anyone to generate and modify sound with a personal computer in real time. Max/MSP (*) is extensively used for artistic applications, such as live musical performance and the control of sound installations. Therefore, the MSP Summer School will be offered as both an introduction and an advanced course in this remarkable interactive signal processing environment. Our guests, David Zicarelli and Leslie Stuck will instruct MSP.
The MSP Summer School is divided into two courses. One is for beginners and one is for those with experience. The participants will learn MSP from an elementary level to an advanced level with an emphasis on the practical aspects. Each participant will use a computer during the workshop. Evening sessions are also prepared in order to cover additional themes and to exchange ideas, as well as to present artistic examples using MSP.
Besides the instructors, all participants, artists in various fields, and researchers will gather and exchange ideas in this summer workshop, which is for those people interested in new possibilities of technology and artistic expression that MSP offers.
(*) In conjunction with MAX (which controls MIDI only), MSP enables one to produce sound in real time. One doesn't need a MIDI instrument, just a Macintosh PowerPC. Max/MSP is a graphical music programming environment, which is designed to be easy for musicians and prototypers to use. Building one's own musical instrument is as simple as connecting one module to another with virtual wires.
Date
From August 25. 1999 (Wednesday) until August 29. 1999 (Sunday)
Daily schedule :
9:00 - 9:30 reception and guidance
9:30 - 12:00 workshop - A course (for beginners)
13:00 - 15:30 workshop - B course (for advanced users)
16:00 - 18:30 Evening sessions
18:30 - 19:00 reception and guidance
Place
International Academy of Media Arts and Science(IAMAS)
3-95 Ryokechou, Ogaki-city, Gifu 503-0014, Japan
Tel. +81-584-75-6600
Fax +81-584-75-6637

How to reach IAMAS :
- Take Shinkansen (special express train) from Tokyo station to Nagoya station (about 2 hours), then change to JR line. Get off at Ogaki station (about 30 minutes)
- Take Shinkansen (special express train) from New-Osaka station to Maibara station (about 40 minutes), then change to JR line. Get off at Ogaki station (about 30 minutes)
- By bus or taxi, it is about 5 minutes from Ogaki station to the International Academy of Media Arts and Science (IAMAS).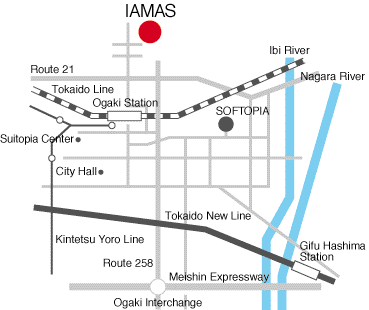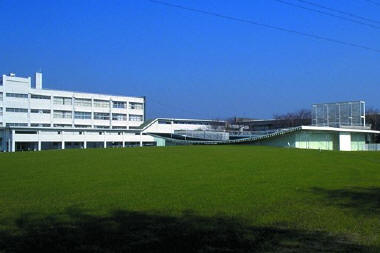 <View of IAMAS>
Instructors
David Zicarelli Programmer (MAX, MSP, M, Jam Factory, OvalTune, Pluggo etc.)
Leslie Stuck Sound Engineer, Composer
Suguru Goto Composer
Masahiro Miwa Composer
Masayuki Akamatsu Media Artist, Programmer
Number of participants
maximum 50 (will be decided in order of acceptance of the application)
Tuition
20,000 yen
Organization
Organization :
Global Media Forum
Softopia Japan, Co.
MSP Summer School Committee
Sponsor :
Cameo Interactive, Ltd.
Yamaha, Ltd, Yamaha Music Nagoya, Ltd.
Sound & Recording Magazine
Support:
International Academy of Media Arts and Science (IAMAS)
APA Hotel Co.,Ltd
Cooperation :
Japan Computer Music Association [JACOM]
Information Processing Society of Japan - IPSJ Special Interest Group on MUSic and computer (SIGMUS)
Japanese Society of Electronic Music
Contact
MSP Summer School Committee
International Academy of Media Arts and Science (IAMAS)
3-95 Ryokechou, Ogaki-city, Gifu 503-0014, Japan
Tel. +81-584-75-6633
Fax +81-584-75-6633
Homepage : http://mspss.iamas.ac.jp/
email : mspss@iamas.ac.jp