Events
Artist Talk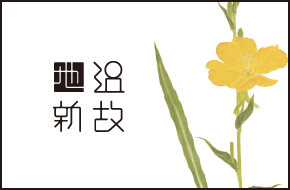 Symposia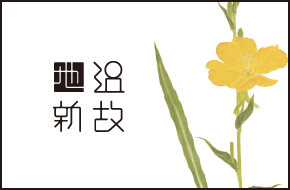 Workshop
Participation reservation:Please send e-mail or call telephone.
Tel: 0584-75-6606
E-mail: rcic@ml.iamas.ac.jp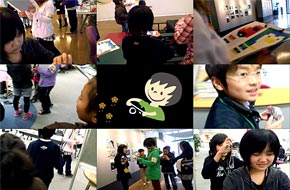 IRO IRO hunter
Location : Ogaki Event House
Date : 23,September(thu)14:00–17:00
Let's collect the colors of Ogaki!
"IRO IRO Hunter" is a workshop with the goal of creating a photo mosaic.
Participants collect "color" in the city around them by taking photos, processing them with a computer, and then printing them out onto postcards.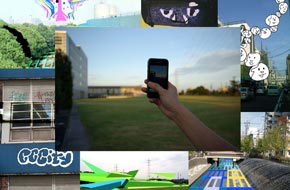 CCCity Remix
Location : IAMAS OS
Date : 23,September(thu)15:15–16:45
The city's past and present are recorded in this program, bringing up memories of the past and creating a new image of the city. This project explores the possibilities of Creative Commons licensed content. The sights and sounds of individual locations are recorded, and Creative Commons licensing is used to add an extra level of creativity and transform the city. By using the iPhone, users can view records of a location while actually at that location and help create a cityscape for the future.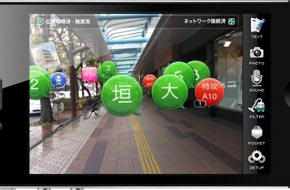 Kuukan Algorithm @ GIFU OGAKI BIENNALE "Let's make Monster Zoo !"
Location : Machizukuri Plaza
Date :
25,September(sat)
11:00–13:00 (First time)
12:00–14:00 (Second time)
26,September(sun)
13:00–15:00 (Third time)
14:00–16:00 (Fourth Time)
This project uses Sekai Camera, a smartphone-based social AR system, to give new appeal to Ogaki through an augmented reality space.
"Let's create a Monster Zoo!" is a workshop where participants are actually able to release the monsters they have drawn into the augmented reality version of Ogaki.
With iPhone in hand, participants will head out with a certified monster specialist into the Ogaki Monster Zoo!
Performance/Concert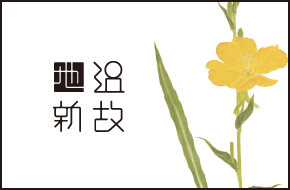 Opening+Mini Concert
Location : Ogaki Event House
Date : 22,September(wed)14:00–14:30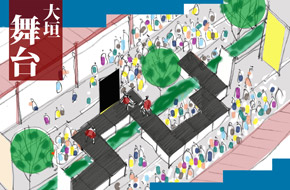 Ogaki Downtown Stage
Location : Ogaki main street
Date : 23,September(thu)17:00–19:00
The shopping arcade north of Ogaki station will be transformed into a pedestrian's paradise, complete with a stage for performances, concerts, and fashion shows. This normally quiet area will suddenly feature a stage for all sorts of physical expression. "Ogaki Downtown Stage" is organized by a student and professor involved in city design projects. People from Ogaki and other cities will gather to dance, perform music, and put on shows, adding a vibrant hue to the city of Ogaki as dusk falls. The cooperation of IAMAS and area residents comes to fruition on one stage.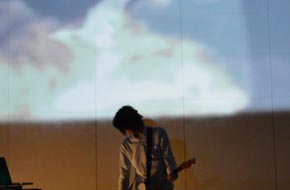 OOPS! consists of exhibits and live performances featuring music and video with the theme of "new ideas from the old". Since it takes place in the Cosmo Dome Planetarium, viewers can take in the starry sky projection as they enjoy fascinating, innovative works. The Mobile Media Project, consisting mainly of IAMAS DSP Course members, is displaying a number of pieces that range from rough prototypes to polished masterpieces. Live performances will be streamed on Ustream using NxPC.Lab.
Performers:Craftwife, Kazuomi Eshima, Eri Kuriyama, Suzuki Yushin, Toma Shinobu, Daichi Misawa