Gifu Ogaki Biennale 2006 is an international media arts festival
held in Ogaki City, Gifu biennially.
Description
2006.09.13
The Biennale will be directed by media art curator and internationally active critic, Gunalan Nadarajan, and media aesthetics professor at the Institute for Advanced Media Arts and Sciences, Hiroshi Yoshioka. We present Janken as the universal theme at Biennale, reinterpreting the non-European game as a flexible and mythical idea.
This Biennale has two distinct features: First, it will be the first exhibition in Japan that focuses on Asian media artists from countries such as Singapore, Thailand, the Philippines, Indonesia, India, China and South Korea which have in recent years grown with rapid momentum, drawing global attention. Second, these exhibitions will be deployed throughout various places on the streets of Ogaki City, Gifu.
In addition to the works above, there will be artist talks, symposia, workshops, performances and exhibitions of artworks by artists from Japan and other countries, IAMAS (Institute of Advanced Media Arts and Sciences, International Academy of Media Arts and Sciences) students and graduates.
This will be an event full of fresh ideas and the latest information technology such as a unique stamp collecting activity developed specifically for the Biennale and sound events from a specially customized bus.
Event Dates
October 6 (Fri) - 15 (Sun) , 2006
Organizers
IAMAS, Gifu Prefecture, Ogaki City, Japan Center for Local Autonomy
Admission
Free
Theme
Janken: The Power of Chance
Janken is a game used to decide something no one wants to decide. The name Janken is derived from the Buddhist term ryanken The elements of 'chance' and 'luck' that intervene in rational 'schedules' and 'planning.' The unforeseen developments and serendipity in arts and sciences, and in our own lives. Ogaki Biennale 2006 takes up Janken, the familiar game where the power of 'chance' manifests directly, calling attention to the trichotomy at work (cyclical structure of the world, in contrast to dichotomies such as coin tosses (heads / tails)). Janken also serves to help us understand that cyclical structures are universal challenges in the natural environment, economic society, and all other realms with which we are close in contact.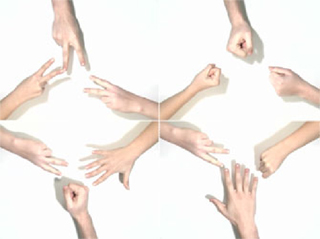 Marcia Vaitsman "Janken: No Winning Game"
Director
Hiroshi Yoshioka
Studied philosophy and aesthetics at Kyoto University. He has taught at Konan University and IAMAS. He is the author of The Present Tense of Thought: Complex Systems, Cyberspace, and Affordance Theory (Kodansha), and Information and Life: The Brain, Computers, and the Universe, with Hisashi Muroi (Shin'yosha). He was the editor of Diatxt. (vol.1-8) published by Kyoto Art Center, and the general director of the Kyoto Art Center Kyoto Biennale 2003.
Gunalan Nadarajan
Art theorist/curator from Singapore, currently based in the USA. Has curated many international exhibitions and published and lectured extensively on media art and contemporary art. He will be Artistic Director of ISEA2008, the world's premier biennial exhibition and conference of electronic arts to be held in Singapore.
Support
Gifu International Center, Gifu Prefecture Board of Education, Japan Foundation, Ministry of Foreign Affairs, Ministry of International Affaire and Communications, Ogaki City Board of Education, Ogaki International Exchange Association, Ogaki Tourism Association, Ministry of Economy, Trade and Industry
Cooperation
ARTiT Co. Ltd, Chukyo University School of Information Science and Technology Department of Information Media Technology, Juroku Bank, Softopia Japan, NPO Digital Archive Japan Alliance (DAJA), The Jumangoku Festival Implementation Committee, NPO Machi-zukuri, Ogaki Kyoritsu Bank, Ogaki Shogyo Business High School, Ogaki City Cultural Foundation, Ogaki Chamber of Commerce and Industry, NPO Ogaki Urban Citizen Support Council, Seino Suisan Gyogyou Kyoudou Kumiai, SUITO Taxi Co., Ltd., Tanaka-ya Senvei Sohonke