Based on the theme Janken: The Power of Chance, works by
foreign and domestic artists will be exhibited in six locations in the city.
Kyu Juroku Ginko 1
Raqs Media Collective
Five Pieces of Evidence
2006.09.15
Delhi, India
Media installation
2003 (re-configured in 2006)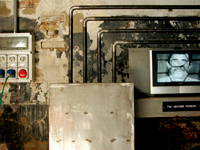 The work is an installation in the form of a detective story awaiting its author. Missing person notices, a mysterious creature that haunts cities by night, patchwork maps of crime scenes, hints of a trail and a mirage of motives fill filing cabinets. Investigations demand to be undertaken.
Kyu Juroku Ginko 2
Seo Hyo Jung
Snow White on the table
Seoul, South Korea
Media installation
2006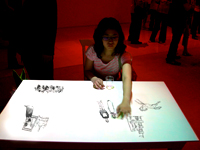 In most fairy tales, the heroine owes her happy ending to the power of luck. What if Snow White hadn't stumbled upon the house of the seven dwarfs? If the Prince, by chance, hadn't come down that fateful road and found Snow White, would she have found happiness? Now it's your turn to create a new ending.
Kyu Juroku Ginko 3
Tad Ermitaño
Hulikotekan v2.1
Manila, Philippines
Video installation
2002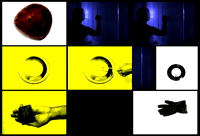 This is an audiovisual canon using household objects. The title is a combination of the following words:
Huli: Tagalog for "to be delayed", "to catch up"
Uli: Tagalog for "again"
Likot: Tagalog for "restlessness"
Ikot: Tagalog for "cycle", "to go around"
Kotekan: Balinese for "interlocking melodies"
Teka: Tagalog for "wait a moment"
Kyu Juroku Ginko 4
Tad Ermitaño
Shift Register
Manila, Philippines
Media installation
2001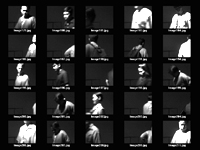 While a doorway to a garden makes visible just the part it frames, this installation frames the abstract garden of surveillance technology, mixing themes like data processing and private space.
Kyu Juroku Ginko 5
Jamsen Law
Field of Consciousness
Hong Kong, China
Video installation
2006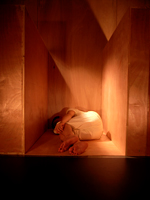 In this video, "field" is used as a metaphor symbolizing soil for growth. The memory of soil of things that existed or happened on it becomes a determining factor of what can grow on it. Consciousness is not something as perceivable and conceivable as soil, however it is a key to understand the mystery of karma.
Butokuden 1
Shinta Inoue + H.584
Project of Shepherd in Ogaki
Japan,Kyoto
Installation, Video
2006
Grazing days:Oct 9 (Mon, holiday), 10 (Tue)
Grazing places:Throughout the city
Screening dates:Oct 14 (Sat), 15 (Sun)
Screening venue:Butokuden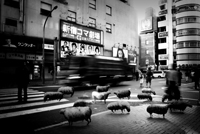 Shinta Inoue, a two-dimensionally working artist, sends a four-legged creature drawn onto panels "grazing" in the city. His real-space sessions with the H.584 film team make up a video diary that is going to be screened at the end of the Biennale.
Butokuden 2
Saso Sedlacek
Space Junk Spotting
Ljubljana, Slovenia (presently in Japan)
Media installation
2006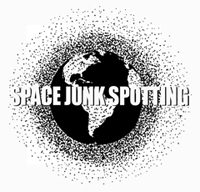 Space must no longer be only a military and political polygon!
A closer look at the sky would reveal something invisible to the naked eye: there is a junkyard above our heads. Through observation of this junkyard through special glasses, Space Junk Spotting aims to increase public awareness about the situation.
Thanks: Yu Fukui, Yosuke Hayashi
Butokuden 3
Nobuya Suzuki
Three men three legs
Gifu, Japan
Media installation
1996, 2006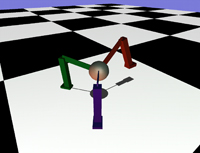 Three men three legs is a device that allows three people to share the experience of a three-legged avatar (virtual body) on a network. Each person controls one leg, and the movements of all three people collectively drive the avatar. Whether to move independently or in harmony is up to the users.
Butokuden 4
Marcia Vaitsman
Janken: No Winning Game
Cologne, Germany
Video installation
2006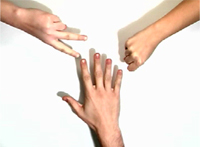 These three people playing Janken (rock-scissors-paper) will never come to win. This situation is simulated as a perfectly balanced system (no winner, no loser) through 9 video fragments showing all possibilities of not winning the game. The fragments are shown randomly, resulting in an unpredictable, endless video sequence.
Music: Enrique Bernacchini
Shin-Ohashi Information 1
Masami Hirabayashi
CCCity

Gifu, Japan
Web
2006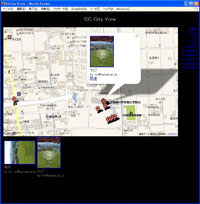 This work decorates and transforms the town by arranging photographs and drawn sceneries of Ogaki in the streets via cell phones and the Internet. These displays show the possibilities of reusing contents unconstrained by copyright issues.
Shin-Ohashi Information 2
Saso Sedlacek
Beggar Robot 2.0
Ljubljana, Slovenia (presently in Japan)
Interactive public installation
2006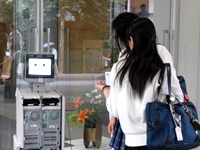 This robot was made using free hardware and software for materially disadvantaged people. It serves as a messenger exclaiming that too much of the world is getting poorer, not richer. An experiment showed that the wealthier part of society shows more sympathy toward marginalized groups when communicating from a safe distance, using technology as an interface.
Thanks: Takanori Endo, Yu Fukui, Hiromi Imamura, Hiromitsu Murakami
Takeshima-kaikan
2006.09.14
Kamol Phaosavasdi
The imaginary bridges that link them
Bangkok, Thailand
Video installation
2006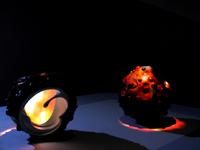 Places and positions always reflect their history, culture and society, whereas some places convey a particularly spiritual meaning. This work is an attempt to integrate and give shape to recurrent, historical reflection by using video images and effects of animated light in a video installation setting, i.e. an arrangement of the interior of the human mind.
Inari Shrine
2006.09.13
"KODAMA" -mischievous echoes-
Hisako K. Yamakawa
Gifu, Japan
Media installation
2005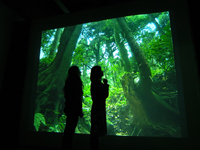 A (fantasy-like) forest and KODAMA inhabiting it appear like filaments of air in the worship hall of Ogaki City's Inari Shrine, and capture people's voices. This work affords the "voice" as a transparent medium a sense of existence as if floating in the air.
Mukayusou Taiseisha, Zensho-ji
Kazuki Saita + Soichiro Mihara + Hiroko Mugibayashi
moids
Tokyo/Yamaguchi, Japan
Sound installation
2005年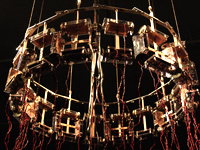 moids is a non-deterministic world model that generates a coordinated, distributed autonomous sonic environment. 48 electro-acoustic devices behave autonomously yet affected by environmental sounds, and in turn generate dynamic, harmonized sound patterns.