Various projects besides exhibitions and public performances
will be carried out unique to Biennale. Please discover and enjoy
these events while strolling about town.
Stamp Collection Activity Art
2006.09.14
Continued from the previous Biennale, a stamp collection activity will be conducted at all venues. Biennale goods will be given to the first 200 people for collecting 5, 10, and all stamps.
In addition, data will be taken using a web camera about what order people went around to events in, what locations many people saw, and so forth. IAMAS faculty and students will create a protean artwork born out of this data. The piece can be seen at Shindaihashi Bridge Information. Please come and participate.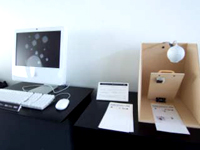 Stamp Collection Activity Artwork
Masahiko Furukata
M -emu-
imo
oct
Hirotaka Takagi
live
Endai Setchi Project (Bench Installation Project)
In collaboration with Gifu Academy of Forest Science and Culture Craft and Furniture Making Association, connectable benches of original design have been created. While calling attention to the act of sitting in the context of city space, this project reinterprets the traditional bench as a communication tool to gather people together. We hope the benches will generate festivity during Biennale at Ekimae Information and inside Ogaki Castle, and that they will continued to be used after the close of the event.
Bench Design: Hiroshi Yamaguchi + Craft and Furniture Making Association
Newsletter
2006.09.13
Crocus Gifu Ogaki Biennale 2006 Special Issue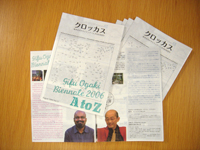 Before events get underway, IAMAS students will report, edit and publish a newspaper including various events at Biennale and information on the Ogaki area. Copies can be found at the information centers.